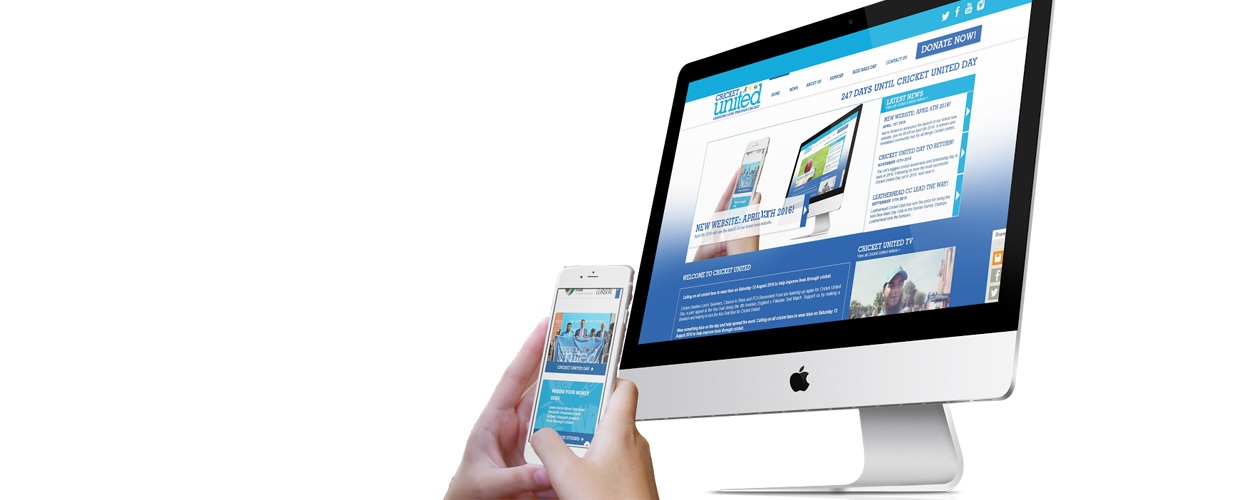 CRICKET UNITED LAUNCH NEW WEBSITE
The Cricket United website has, as you can see, re-launched with a fresh new look for 2016 after news that the biggest cricket charity campaign in the UK is back for a fourth year. And to celebrate, we are giving away Steven Finn's match worn Cricket United Ashes shirt (see competition below).
Cricket United Day will return on Saturday, 13th August – the third day of the fourth Investec Test Match between England and Pakistan at the Kia Oval – and thanks to the web agency Mau Media we can bring you all the latest updates from the new-look cricketunited.co.uk
Mau Media co-founder and Northamptonshire CCC all-rounder, Steven Crook, was so taken with the Cricket United concept that he offered to provide his agency's resource and expertise for free in support of the three Cricket United charities, Lord's Taverners, Chance to Shine and PCA Benevolent Fund.
Commenting on the launch of the new website, Crook said: "It's a great concept, for the three biggest cricket charities in the country to come together it can only be good for everyone to raise awareness and funds. It's a great day and it looks like a lot of fun! The main thing is all three charities do great work and I'm honoured to be part of Cricket United. I know this year is going to be another great day."
COMPETITION
To celebrate the launch of our new website we are giving away a unique, money-can't-buy prize: we have stored away England and Middlesex fast bowler Steven Finn's match-worn, Cricket United Day 2015 Ashes shirt!
Congratulations to Patricia Fowler who was randomly selected to win Steven Finn's shirt. It will be with you shortly!
*Delivery of Steven Finn's signed shirt can only be delivered to an address within the United Kingdom. Competition closes 6.00pm on Wednesday April 20th.
Please let us know your thoughts on the new Cricket United website by emailing info@cricketunited.co.uk.
Keep up-to-date with Cricket United by liking our Facebook page and following us on Twitter and Instagram.