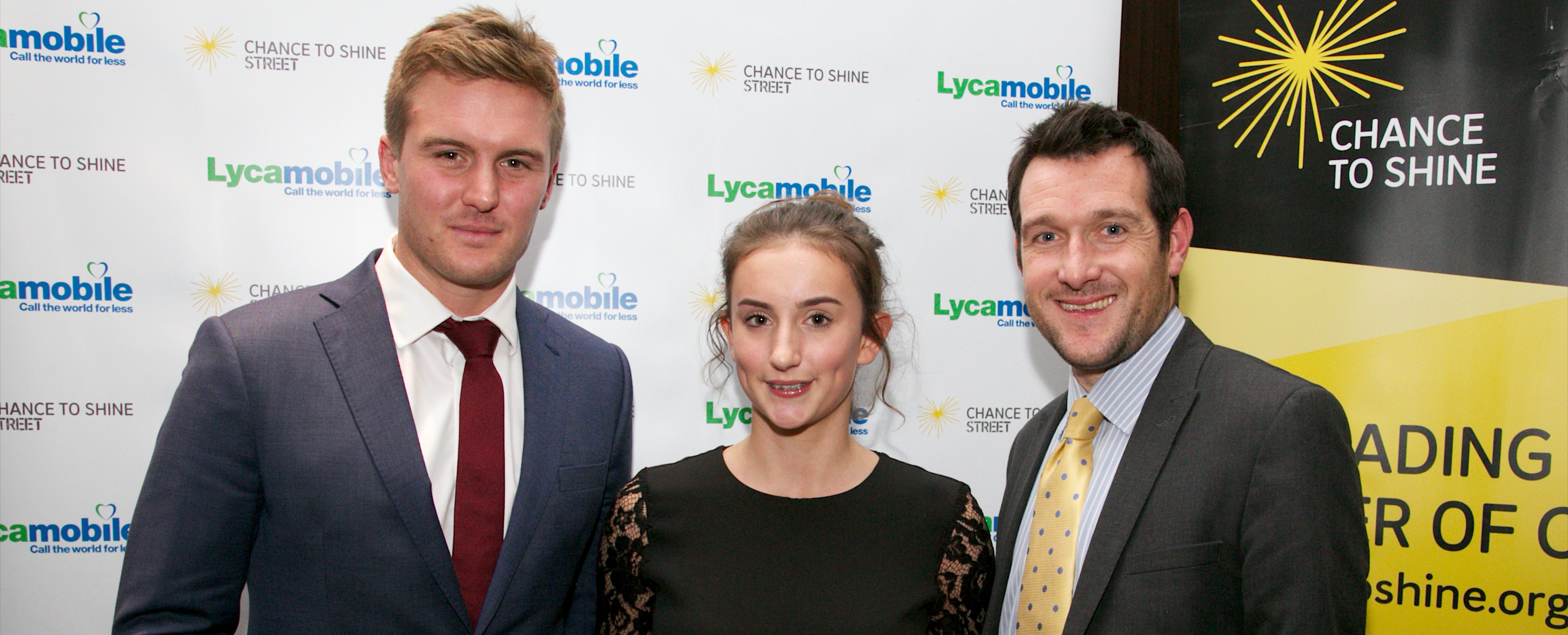 Cricket United Day: The Beneficiaries
Today, Saturday 29th July, will once again be 'Cricket United Day', with the Kia Oval turning blue in aid of three charities – Chance to Shine, Lord's Taverners, and the PCA Benevolent Fund – who are coming together to change lives through cricket.
The Lord's Taverners provide sporting chances for disadvantaged and disabled young people; Chance to Shine spreads the power of cricket to young people in schools and communities; and the PCA Benevolent Fund helps past and present professional cricketers in their hour of need.
Each have chosen a beneficiary to represent them on the day, who will receive Cricket United caps in a special ceremony and form part of the guard of honour for the players at the start of the day.
Chance to Shine's designated beneficiary is Elsa Barnfather, a student at Simon Balle All-through School, who has propelled herself to great cricketing heights with the help of Chance to Shine. She is captain of the school's under 13 side, who, under her leadership, have won every competition offered by Chance to Shine's secondary school competition Chance to Compete.
Elsa has also been selected to represent Hertfordshire under 13s, and her school's boys team, and although it was a daunting experience for her – "It was a bit nerve-wracking but I got into it" says Elsa – she has enjoyed success. Teammate Aiden says: "The opposition underestimates her. Their eyes light up and they think, 'We can win this easily'. Then she gets wickets and we win the game."
Her excellence and leadership has encouraged many others to take up the sport. Emily, a pupil at the school, says: "I used to think it was just a boys' sport, but now I know that girls can play it as well."
The Lord's Taverners have chosen Sam Alderson as their representative. Sam lives with TAR syndrome – a rare genetic disorder that is characterised by the absence of a radius bone in each forearm. He thought his chances of playing cricket were over when he became a wheelchair user, but thanks to the Lord Taverners' Disability Championships, and his own determination, he is excelling once again at the game he loves.
An improvised technique – Sam plays from his knees instead of his chair, and uses a smaller bat to give him more control – has produced great results: in 2016, he was named the Lord's Taverners Disability Cricket Club's 'most improved player.'
"I never thought I would be able to play cricket with my disability. I thought it was game over, that I wouldn't be able to play sport again," says Sam. "I didn't know what to do, but luckily I was introduced to disability cricket and it has allowed me to once again experience all the excitement and happiness that sport gives me."
Lastly, Brian Rose will be the PCA Benevolent Fund's beneficiary. The former Somerset and England batsman required dental implants after a severe form of rheumatoid arthritis caused his teeth to fall out.
Rose, who also fractured his skull in one of several falls, found it increasingly difficult to speak clearly when he was Somerset's director of cricket and he lost confidence as a consequence.
"If you have no teeth and you can't move you have a big financial problem because you are not able to work for too long," says Rose, who was Somerset's director of cricket.
"Everybody in all forms of life needs help, and some greater help than others. There is no better job done than by the PCA Benevolent Fund helping people. They are fantastic." You can watch Rose discuss the PCA Benevolent Fund's life-changing help below.
You can donate to Cricket United here, or text 'CRICKET' to 70123 to donate £5.