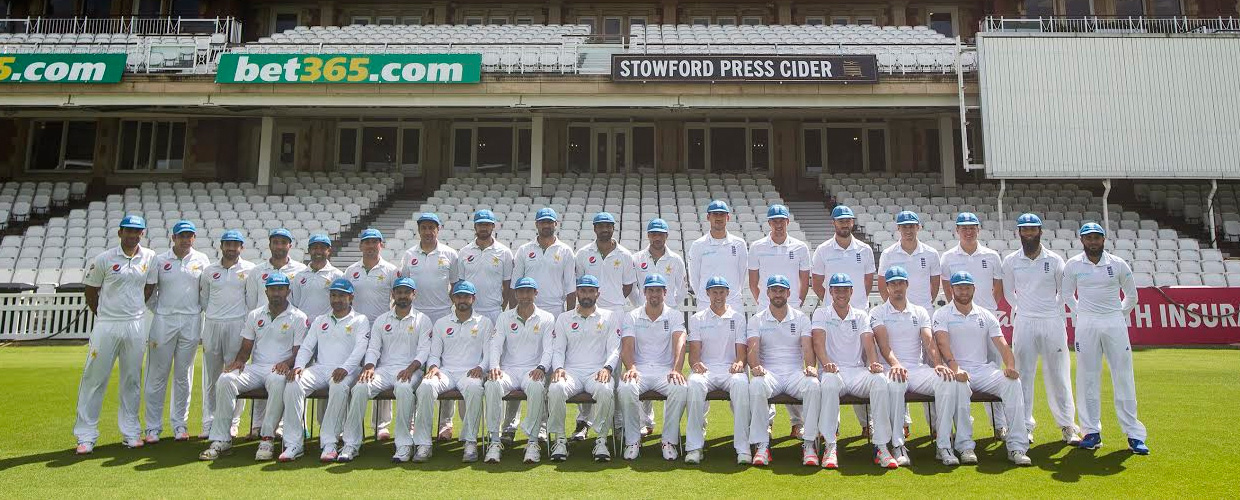 CRICKET UNITED DAY: A CELEBRATION OF THE GAME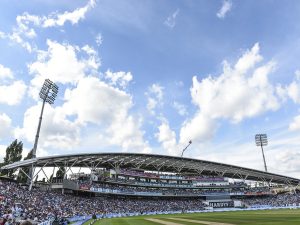 Phil Walker reports from the Kia Oval…
A fierce Test match may have been taking place on the field, but today was about so much more than Younus Khan's majesty and Pakistan's spirit. From young fans in blue caps, to volunteers shaking buckets of cash, to policemen playing impromptu games on the concourse and ex-England captains auctioning their own signed ties for £500 a pop – as Alec Stewart did to great uproar – all of those present in south London could feel a part of something important and even beautiful. Now in its fourth year, Cricket United is going from strength to strength. "Looking at the ground today," says Paul Robin, CEO of the Lord's Taverners, "it's clear that Cricket United is really starting to take off and catch on. I'm not sure there are any other sports which has cricket's ethos and history of sportsmanship and support for each other, and I think Cricket United demonstrates that in a perfect way."
The former England batsman James Taylor was a constant presence throughout the day, giving a powerful interview on Sky Sports alongside Graeme 'Foxy' Fowler in which he outlined the crucial work carried out by each of the charities. "The whole day's been a great experience. All three initiatives are such important charities, three great causes, and to see the Oval turn blue with about 90 per cent of the people dressed in the blue of Cricket United for these serious causes is very important for cricket itself."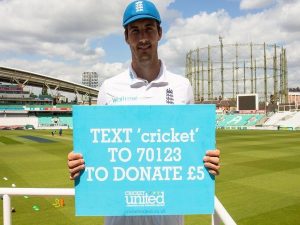 Taylor and Fowler are both beneficiaries of the PCA's Benevolent Fund. In times of personal hardship, the charity has come to their aid, along with countless other professional cricketers. Fowler is now a mental health ambassador for the charity. "I went around all the 18 counties with the PCA and gave a talk on mental health and wellbeing," he told David Gower, himself resplendent in blue. "And it's just gone from there. The PCA did fantastic work for me when I was suffering with depression, so that's why I'm here today. We encourage people to be open, we encourage people to seek help. The PCA really is at the forefront of that."
In his post-playing career work, Taylor has become closely aligned with the Chance to Shine programme. "I've been fortunate enough to partake and participate in some of the activities and go to some of the schools, and genuinely, to see the kids with smiles on their faces and really happy is incredible. They're not fake smiles of kids wishing to get out of lessons! But when cricket is brought into classrooms and on to their fields, it's amazing the joy they get out of it. But it's not just about teaching them how to play cricket. It's about everything that comes along with cricket – all the life lessons we need, how to deal with setbacks, working in a team and making friends. Learning to play with classmates and making new connections is so much a part of the programme."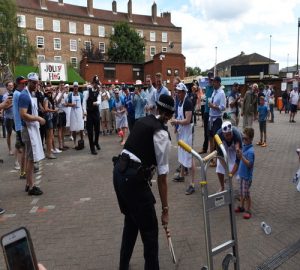 Luke Swanson, CEO of Chance to Shine, underlines the importance of the day to the advancement of his charity. "It's a great opportunity for us to be in the middle of the action and to raise the profile of our charity. Cricket United has become over the years a fundamentally important day in the calendar. All of cricket gets together to celebrate and advance the work these charities do, and what's exciting is that each year it seems to get bigger. And increasingly now it's going outside the ground, with fantastic stuff going on with Blue Bails Day, with lots of clubs up and down the country doing their own things now for Cricket United. It's just brilliant to see all of cricket coming together on this one day.
Despite the mood of celebration around the ground, Swanson recognises that for Chance to Shine, the work is only just beginning. "We've reached three million kids this year, which is an amazing achievement, of which 1.4 million are girls. In terms of what's next for us, we're really setting our sights on reaching a new generation of kids as they start primary school in this country. It's incredible to think we've reached three million kids, but 650,000 kids start primary school every year, so we've got to keep going after each new intake of young players."
"In terms of what it does for us as a charity," adds Paul Robin, "we've all got different messages but we're all doing things via the cricket family to help people who need it. Cricket United gives us profile, and it gets the word out about the difference we're making for kids. I think cricket as a sport has to compete with all other sports, so we need to work together in partnership for the good of the game."
England's stars, who each wore Cricket United-embossed shirts for the day, which will be auctioned off on Sunday evening on eBay, may have traipsed away from the ground tonight feeling that this Test match has gone. But this day – which began with both teams handing their light-blue Test caps over to beneficiaries of the charities as a sign of the game's gratitude for all the work that's put in – was a triumph regardless of who wins and who doesn't, for here was a celebration of the game, the game that sustains us all.
If you want to bid to get hold of an England star's Cricket United shirt, as worn on the field of play, the auction will begin on eBay on Sunday evening. Check Cricket United's social media feeds for more information. Starting bids of £50. Good luck! 
——-
A review Live updates throughout the biggest cricket awareness and fundraising day in the UK as the Kia Oval turns blue for Lord's Taverners, Chance to Shine and PCA Benevolent Fund.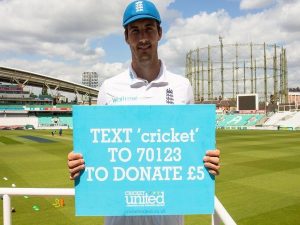 7.00am: Our Team Arrive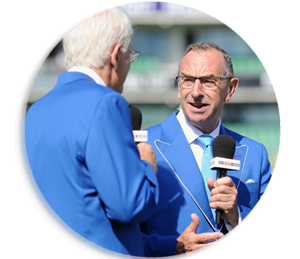 We're here setting up at the Kia Oval for the biggest cricket awareness and fundraising day in the UK.
GET BIDDING!
After the close of play tomorrow, the Cricket United-embossed match shirts worn by the England team will be going on sale on eBay! Jump online tomorrow evening and get your hands on some very special memorabilia from this momentous day, all proceeds going to Cricket United. Good luck…
Check out this classic clip from the pen of Jimmy Anderson. Can you tell who it is yet?
Okay then, here's a gallery of some of the images from the build-up to Cricket United Day…
Lunch on day three with Pakistan in good shape on 417-7. The great Younus Khan is imperious on 147*, Pakistan now leading England by 89 runs. The Kia Oval crowd, bedecked in blue, will be hoping for a fightback in the afternoon session. In the meantime, Cricket United Day is in full and glorious swing…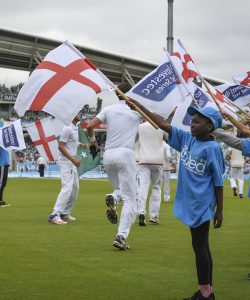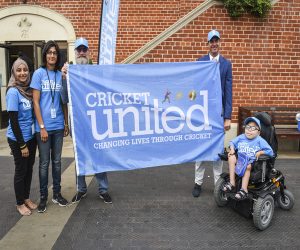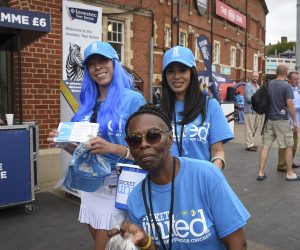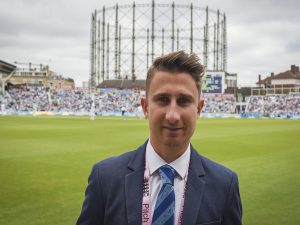 James Taylor, interviewed on Sky Sports along with Graeme 'Foxy' Fowler, speaking beautifully about the work done by the three Cricket United charities: the PCA Benevolent Fund, the Lord's Taverners and in particular, Chance to Shine:
"Chance to Shine is a brilliant programme. I've been fortunate enough to partake and participate in some of the activities and go to some of the schools, and genuinely, to see the kids with smiles on their faces and really happy is incredible. They're not fake smiles of kids wishing to get out of lessons! But when cricket is brought into classrooms and on to their fields, it's amazing the joy they get out of it. But it's not just about teaching them how to play cricket. It's about everything that comes along with cricket – all the life lessons we need, how to deal with setbacks, working in a team and making friends. Learning to play with classmates and making new connections is so much a part of the programme."
CELEB ALERT!
At tea, Pakistan are 214 ahead having been bowled out for a mammoth 542, with Younus Khan playing majestically for 218. The sun is blazing, the crowd are in good voice, and now it's up to England to put up a good fight second time round. England team sponsors, Waitrose, are donating £100 to Cricket United for every four or six hit by England batsmen, so here's hoping for a boundary-fest in the second half of the day…
***RAFFLE NUMBERS ARE IN!***
1st prize: 0796
Weekend stay for two at the Waldorf Hilton
(courtesy of Smile Group Travel)
2nd prize: 0305
A Cricket United 2016 dual-signed bat
(courtesy of the ECB)
3rd prize: 1022
Your weight in Greene King!
(courtesy of Green King)
4th prize: 0953
A year's supply of Yorkshire Tea
(courtesy of Yorkshire Tea)
5th prize: 1702
A case of Hardys wine
(courtesy of Hardys wine)
If you have any queries regarding the draw please call Jenny Rishworth on 020 7449 4227 or email jrishworth@thepca.co.uk