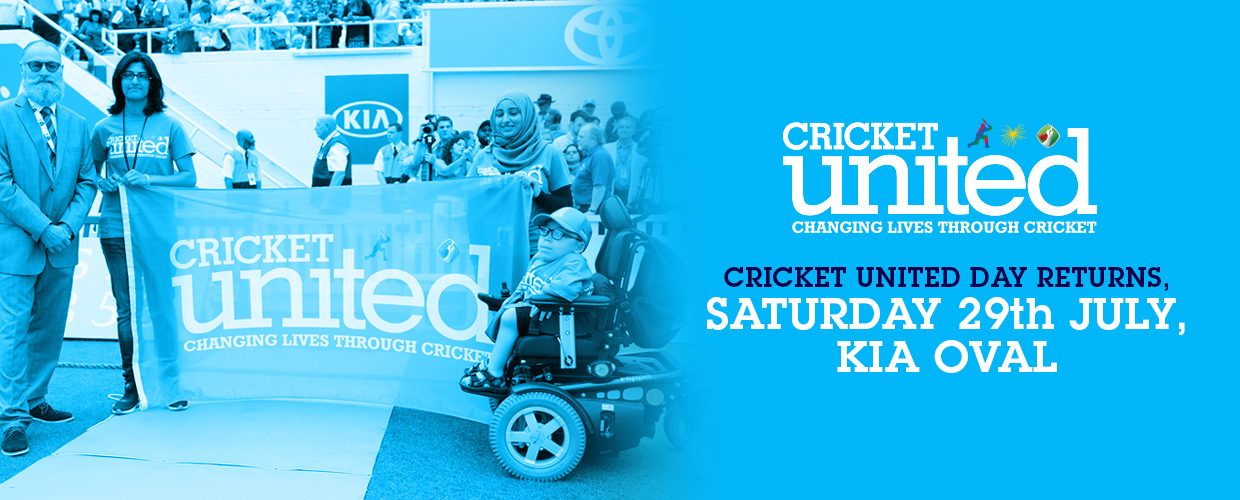 CRICKET UNITED DAY 2017 CONFIRMED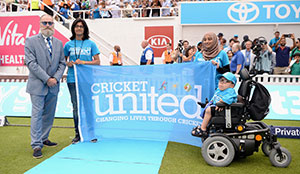 Following a fantastic fundraising effort from last year's Cricket United Day, where nearly £100,000 was raised, we are delighted to confirm that the fifth Cricket United Day will take place on day three of the third Investec Test Match between England and South Africa at the Kia Oval on Saturday 29 July 2017.
The initiative was created in 2013 by three cricket charities, the Lord's Taverners, Chance to Shine and the PCA Benevolent Fund, with one aim – to change lives through cricket. Over £370,000 has been raised for the Cricket United charitable cause over the first four years of the initiative and we're looking to add to that overall total once again at the Kia Oval this summer.
The 2016 campaign included a number of fundraising highlights. The England Test squad, and for the first time a number of celebrity cricket fans, put pen to paper sketching their favourite cricketer for auction on eBay. In total the drawings raised over £7,500 with over £1,000 alone coming from Jimmy Anderson's drawing of Nasser Hussain as Monty Burns while winning that infamous toss in Brisbane and bowling first in 2002.
The support of Stephen Fry and Sir Michael Parkinson also provided the doodles with a welcome fundraising boost as Fry's drawing of Moeen Ali was sold for £760, while Parky's efforts of Alastair Cook and Ben Stokes raised £500 between them.
Building on the success of the Blue Bails Day pilot clubs in the Travelbag Surrey Championship and Shepherd Neame Kent Cricket League have signed up to turn their grounds blue and raise valuable funds for the UK's three leading cricket charities in 2017.
Your generous donations over the first four years have enabled:
| The Lord's Taverners to give thousands of disadvantaged and disabled young people throughout the UK a sporting chance
| Chance to Shine to give thousands of children in state schools the opportunity to play and learn through cricket. Providing children with a brilliant first experience of cricket as well as teaching key life skills such as teamwork, leadership and respect.
| The PCA Benevolent Fund to run a confidential counselling service, utilising a national and international network of specialists, and provide advice and treatment to players and immediate family members suffering from any debilitating issues, either mentally or physically.
All of your support has gone a long way to helping us change lives through cricket. Click here to see some of the individuals who have benefited from the three charities.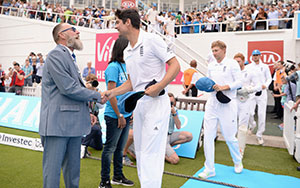 The 2017 appeal is already off to a great start thanks to Surrey County Cricket Club as fans have had the option to donate to Cricket United when buying their tickets for any of the five days of the third Investec Test match between England and South Africa. More details on fundraising activity before and on Cricket United Day 2017 will be confirmed in the coming months.
Cricket United Ambassador, Michael Vaughan, said: "It is great to have Cricket United Day secured for a fifth year and I am sure this year will be even bigger. It has quickly turned into a huge day for cricket in this country and I am looking forward to being an ambassador for Cricket United once again over the next six months as the Lord's Taverners, Chance to Shine and the PCA Benevolent Fund come together and unite to help change lives through cricket."
For all the latest Cricket United news follow us on Twitter and like our Facebook page.