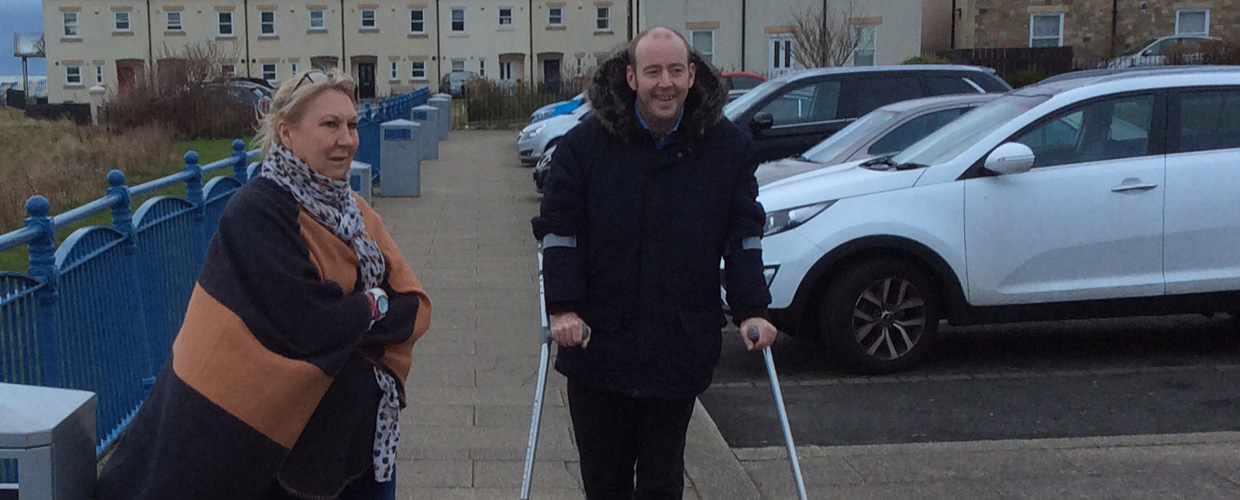 CHANGING ANDREW'S LIFE THROUGH CRICKET
Andrew Roseberry, the former Leicestershire and Glamorgan batsman, has taken his first steps since he underwent surgery to remove a lesion from his spine thanks to the support of the PCA Benevolent Fund.
Roseberry, 44, was told that he might not walk again before he had a nine hour operation in December 2014 but after 13 weeks in hospital and a year of recuperation he is now able to walk short distances with the aid of two sticks.
The PCA Benevolent Fund, sponsored by Royal London, has funded additional physiotherapy to help Roseberry's recovery.
"The Benevolent Fund have been absolutely fantastic. One of the major helps has been the extra physiotherapy they have provided," Roseberry said.
"It's nice to know that, in the Benevolent Fund, you have got someone there just a phone call away that will pretty much do anything for you."
Roseberry was initially treated for a knee problem when he suffered discomfort working as manager of the family-owned events centre in Durham and he underwent surgery to remove cartilage and ligament.
But the problem persisted and returned to hospital for further tests including a brain scan but was told that nothing untoward had been discovered. It was only when Roseberry had an MRI scan on his back that the lesion, which impinged on his spine and affected his nerve endings, was discovered.
"When they said it was a lesion my first thought was: cancer. Everything goes through your mind and it took a few days for everything to sink in," Roseberry said.
"Before I had the operation the surgeon said that it wasn't guaranteed that I would ever be able to walk. I had to sign a form at the hospital before the operation to cover that."
The PCA Benevolent Fund – The Andrew Roseberry Story from The PCA on Vimeo.