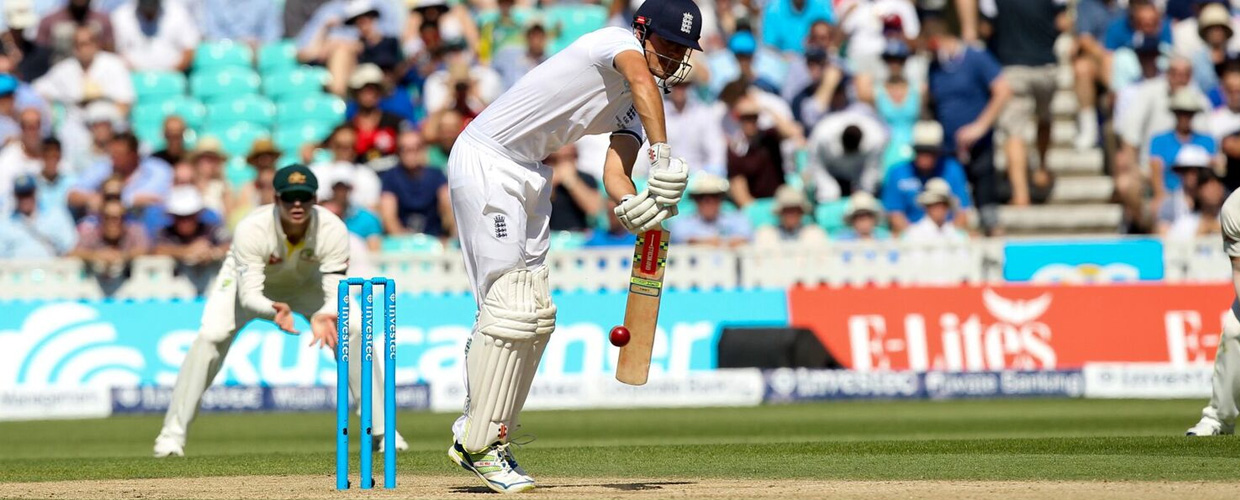 ALEC STEWART BACKS BLUE BAILS DAY
ALEC STEWART URGES SURREY CLUBS TO BACK BLUE BAILS DAY
England and Surrey cricket legend Alec Stewart is calling on cricket clubs involved in The Ryman Surrey Championship to get behind a new charitable initiative, 'Blue Bails Day', and turn their clubs blue for the day on Saturday 22 August.
The pilot programme is part of the joint Cricket United appeal between the UK's three leading cricket charities, the Lord's Taverners, Chance to Shine and PCA Benevolent Fund. Since 2013, they have joined forces for an annual awareness day at the Kia Oval to raise funds and help improve lives through cricket.
Cricket United Day will take place again this year on 22 August, during the Fifth Investec Ashes Test between England and Australia. Surrey County Cricket Club and England & Wales Cricket Board are supporting the charity day, while England sponsors and cricket fans will once again help to turn the ground blue.
For the first time, as part of a pilot scheme, the Cricket United charities are extending their fundraising activity beyond the Kia Oval, on the same day, to Surrey cricket clubs involved in ECB's Premier League. All Ryman Surrey Championship Clubs will have the opportunity to turn their bails, clubhouses and supporters blue for the day – just as fans will be doing at the Kia Oval.
Speaking at the launch of the Blue Bails Day pilot, Surrey's Director of Cricket Alec Stewart said, "Cricket United brings together the cricket community to raise valuable funds for three charities close to my heart: the Lord's Taverners, Chance to Shine and PCA Benevolent Fund. Blue Bails Day is a fantastic way for members of Surrey cricket clubs to show their support and raise money, both for the charities and also for their own clubs. I'd urge as many of them as possible to back Blue Bails Day and help improve lives through cricket!"
Cricketing hero at your cricket club
All clubs that register for Blue Bails Day will automatically be entered into a prize draw to win a visit from a former England or County cricketer to their club. Further prize incentives, including the chance to win cricket kit and equipment for the cricket club, will be on offer for the best and 'bluest' Blue Bails Day.
Improving lives through cricket
Last year, the cricket community helped raise £65,000 for Cricket United from the awareness day at the Kia Oval. The funds were split evenly between the three charities and helped improve many lives through cricket.
The money enabled the Lord's Taverners to provide more opportunities for disadvantaged and disabled young people to enjoy the benefits of playing cricket and other sports; for Chance to Shine to spread the power of cricket in schools and communities in Surrey and across the country; and it helped PCA Benevolent Fund continue to run a confidential helpline, providing advice and treatment to players suffering from mental health issues.
Harry Walters, 11, from Putney Vale is one example of a Cricket United beneficiary. Harry has autism and previously hated school sport. He would always argue with his classmates but Harry's behaviour changed when he found cricket. He learned to control his temper and to work as a team. He absolutely loves cricket now and even sleeps with his trusted cricket bat!
| Register for Blue Bails Day today at surreychampionship.pitchero.com
| Follow the progress of Blue Bails Day on social media with the hash tag #BlueBailsDay and follow Cricket United, @CricketUnited on Twitter and Instagram and fb.com/cricketunited on Facebook.